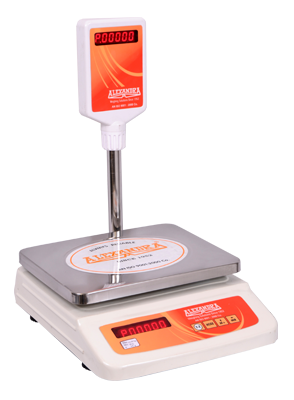 M.S.REGULAR
Feature
High resolution upto 60000 counts.
Advance microprocessor based design.
Easy to read bright red LED Display.
Fast weighing response time.
Pole display available for customer viewing in 250×200 and 300×250. Front & Rear display in 175×225 mm.
Attractive front, pole and top plate stickers.
Heavy duty strong mild steel body
Best quality Powder coating
Rust proof emboss stainless steel platter.
Built in rechargeable battery for continues use.
Battery backup 25 hours.
Low battery indicator.
Available in Two Difference body & sticker colours.
* Due to continuous R&D efforts products specifications are subject to change without any prior notice.
Option
Also available in Ultra Green Display
SPECIFICATIONS
| Model Name | Capacity | Accuracy | Platform Size |
| --- | --- | --- | --- |
| MSS-1 | 1 kg | 0.1 g | 175 x 225 mm |
| MSS-2 | 2 kg | 0.2 g | 175 x 225 mm |
| MSS-5 | 5 kg | 0.5 g | 175 x 225 mm |
| MSR-10 | 10 kg | 1 g | 300 x 250 mm |
| MSR-20 | 20 kg | 2 g | 300 x 250 mm |
| MSR-30 | 30 kg | 5 g | 300 x 250 mm |
| MSR-30D | 12/30 kg | 2/5 g | 300 x 250 mm |
| MSR-30A | 30 kg | 2 g | 300 x 250 mm |