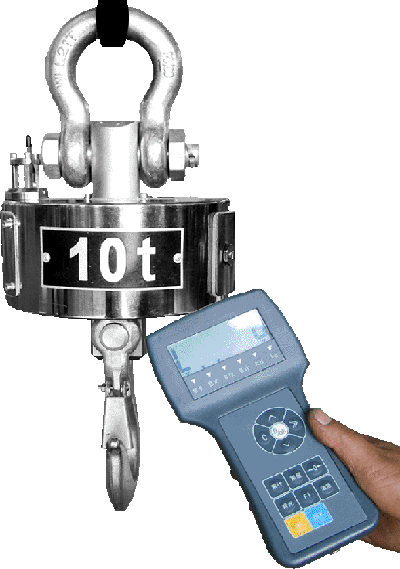 WPS
Features
Strong ABS Body Housing for Display
Wireless Handheld Display to see the reading at the distance of 200 mtrs.
Easy to read LCD with Back Light Display.
Memory – 99 Weighing Operations.
13 Operational keys for different functions.
Adaptor with 3 Indications for AC, Full Charge & Charging.
Storage & Operating Temperature – (-10°C ~ 50°C)
Battery Backup – 40Hrs. Each (Continuous Working)
Heavy Duty Stainless Steel Round Load Cell.
Hook – Alloy Steel.
Shackle – Alloy Steel.
Working Temperature ( Indicator) – (O°C ~ 40°C)
Dual Direction Communicating between Scale Body and indicator.
* Due to continuous R&D efforts products specifications are subject to change without any prior notice.
SPECIFICATIONS
| Model Name | Capacity | Accuracy | Platform Size |
| --- | --- | --- | --- |
| WPS-5T | 5 Ton | 2 kg | – |
| WPS-10T | 10 Ton | 5 kg | – |