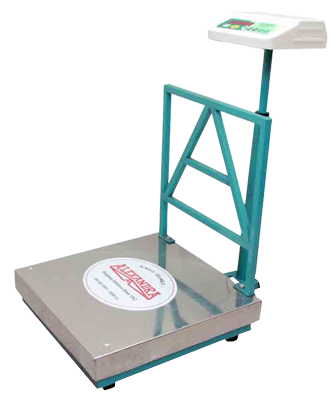 REGULAR PLATFORM (SS)
Feature
High resolution upto 60000 counts.
Advance microprocessor based design.
Easy to read bright red LED Display.
Fast weighing response time.
Heavy duty strong Pipe structure.
Rust proof stainless steel plat of high quality.
Mild steel, best powder coated Indicator.
Flexible strong pipe stand with base.
Best quality Powder coated Backrail.
Built in rechargeable battery for continues use.
Battery backup 25 hours.
Low battery indicator
Optional
Extra parallel display with 3 mtrs wire.
Also available in Ultra green display.
SPECIFICATIONS
| Model Name | Capacity | Accuracy | Platform Size |
| --- | --- | --- | --- |
| PL4-50 | 50 kg. | 5 g. | 400 x 400 mm |
| PL4-100 | 100 kg. | 10 g. | 400 x 400 mm |
| PL5-100 | 100 kg. | 10 g. | 500 x 500 mm |
| PL5-200 | 200 kg. | 20 g. | 500 x 500 mm |
| PL6-200 | 200 kg. | 20 g. | 600 x 600 mm |
| PL6-300 | 300 kg. | 50 g. | 600 x 600 mm |
| PL6-500 | 500 kg. | 50 g. | 600 x 600 mm |
| PL75-500S | 500 kg. | 50 g. | 750 x 7500 mm |