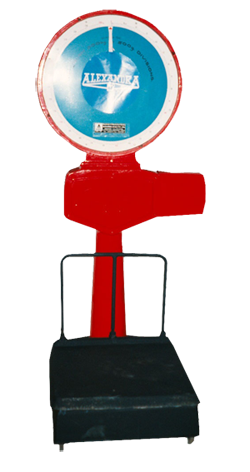 MODEL 110 (DIAL TYPE)
Feature
Steel Suspension for free movement and to prevent damped stresses and shocks.
Solid Steel Backrail
Solid Steel Backrail
Easy Locking device
Fully automatic (Self Indicating) for Spontaneous automatic weight indication
Shadow-less line indication of pointer on black & white equally spaced marking of Dial chart
Double pendulum mechanism housed in dust and moisture proof head ensure life long and fatigue free indication
Dashpot prevents excessive oscillation of the needle.
Tare bare can be provided as an optional accessories.
* Due to continous R&D efforts products specifications are subject to change without any prior notice.
SPECIFICATIONS
| Model Name | Capacity | Accuracy | Platform Size |
| --- | --- | --- | --- |
| 110 – 100 | 100 kg. | 200 g. | 600 x 600 mm. |
| 110 – 200 | 200 kg. | 500 g. | 600 x 600 mm. |
| 110 – 300 | 300 kg. | 500 g. | 600 x 600 mm. |
| 110 – 500 | 500 kg. | 1000 g. | 750 x 750 mm. |
| 110 – 1t | 1000 kg. | 2000 g. | 914 x 914 mm. |